There have been dozens of popular massively multiplayer online games at this point but none of them have matched the popularity of World of Warcraft. No doubt, Blizzard is doing something right. But what are they doing wrong?
Blizzard is ruining World of Warcraft, one patch and one expansion at a time.
World of Warcraft patches are unique in a way that they permanently and almost irrevocably change the game forever. Before Mists of Pandaria came out Blizzard unleashed its new talent system. It went from a cryptic point based talent tree system to a simple and linear 6 talent choice system each with 3 options.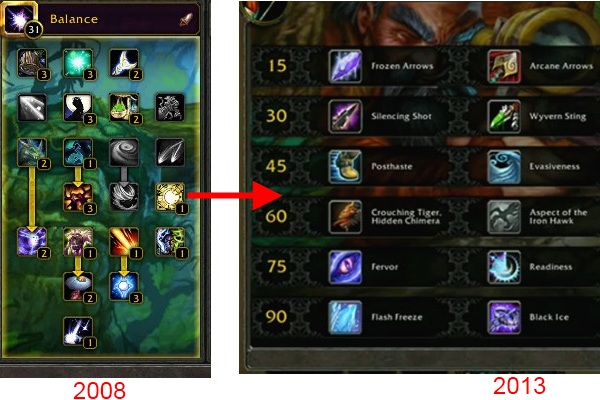 Blizzard argues that the new system is better, and the subscriber base seems not to mind considering its still holding strong around 10 million. Regardless of what you think, unless you play on a buggy private server, you'll probably never see the old talent system again. This is just one facet of the game, in Cataclysm Blizzard destroyed half the world and remastered almost every quest from 1 to 60.
How is this different than patches in Starcraft II and other games? It's different because of the massive scale of the changes applied over the last decade. The classic World of Warcraft that 9 million people played in the first 3 years is completely gone. Forever.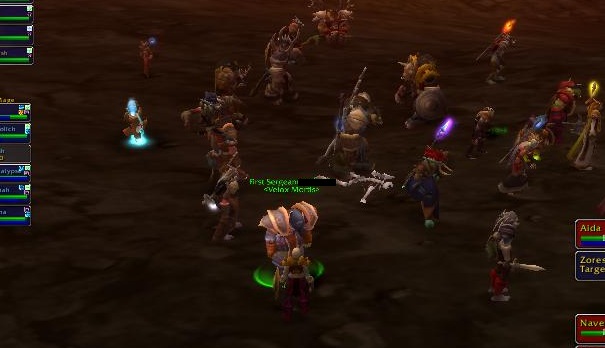 Here's a picture of my tank geared up with uncommon and rare items to do Molten Core. Never again will Molten Core be genuinely challenging. Never again will players struggling through Dire Maul, carefully organizing crowd control assignments and kill orders.
With each expansion and with many of the patches every single existing instance is immediately out dated as it will never be genuinely challenging again. Raids like the original Naxxramas were completely removed.
But how to fix it?
It's actually possible and relatively easy to fix and certainly all of my whining would be futile if there were no solution. Everquest has already defined the progression server, where new content is unlocked as players progress through the game. Instead of locking all players into one period of time within the Warcraft world, start a few new servers every year or so.
Servers can have unique configuration based on popular demand. Some might have leveling caps, slower or faster XP gains, others have increased difficulty and perhaps some can be have added death penalties. These would allow players to relive the classic World of Warcraft experience that has been ruined by expansion after expansion of content.
Along with the addition of new progression servers Blizzard could adopt the apprenticing system from Everquest. This could allow players to play with lower level friends and progress with them. Gear and stats would be scaled down for whatever level content they are playing.
Finally, the third thing Blizzard could do is scale all old (or most) dungeons and raids to max level gear and stats. This would allow level 90 characters to return to challenging version of Molten Core. Different difficulties would allow players to earn different achievements. A real "heroic" mode could be readded to the game which would be a challenging version of old and existing dungeons. Old dungeons could be revisted to make gold or earn a different type of gear.
Why Blizzard won't do it
Ultimately Blizzard will host progression servers and possibly even scale old content, but the reason they aren't doing it now is because, as they claim, they would rather invest time and energy into producing new content than reviving old content. This strategy will prove futile in the coming years as players get bored of the same repetitive and templated content and demand the classic challenging and complex game of the past. Blizzard's quantity over quality approach is nearing an end.
Tip: Have you ever wondered how players have so many level 85s or how they can level an 85 so quickly? I use and strongy recommend Zygor's in-game leveling addon which will enable you to level in 5 days of played time. You can find a free version of it here.