Windwool Cloth
Item Level: 86
Where to Farm: Pandaria
Recommended Level: 86+
Windwool Cloth is the new cloth type coming in Mists of Pandaria. It drops off of any humanoid in Pandaria, the higher the level of the humanoid, the higher the drop rate. It is used in the early tier Tailoring recipes to make PvP and level 85-87 PvE/leveling gear.
In both Cataclysm and Wrath of the Lich King Northern Cloth Scavenging played a critical role in increasing Tailors drop rate of cloth. If you didn't have this ability you could not really farm Embersilk or Netherweave efficiently. We don't know yet if this passive will play a role in Mists of Pandaria, if it will be replaced with something new or if Blizzard will level the playing field by letting everyone farm windwool cloth equally.
Windwool is good to farm because it sells at a very sable rate. There's little or no chance that you will farm a bunch of Windwool only to find out that you can't find a buyer. Tailors use Windwool very quickly, since Bolts of Windwool Cloth are their main reagent. You should sell Windwool Cloth in stacks of 20 on the auction house or in bulk in trade chat.
Update: You can make a lot of gold with Windwool Cloth, but if you want to step it up and make thousands of gold you should read my personal favorite guide.
Where to Farm Windwool Cloth
Like I mentioned above, all level 85-90 humanoids in Pandaria drop Windwool Cloth. The trick is to find an area with a high density and fast respawn of humanoids. I have a few favorite places, if you have any of your own please share in the comments below.
Farming Windwool in Kun-Lai Summit
The best place to farm Windwool that I know of is from the humanoid camps in southern Kun-Lai Summit. The reason I like this place is because the mobs are easy to kill and all over the place. There are two camps with Ordo mobs and one camp with Ruqin mobs. Each works great. This map shows where these camps are located: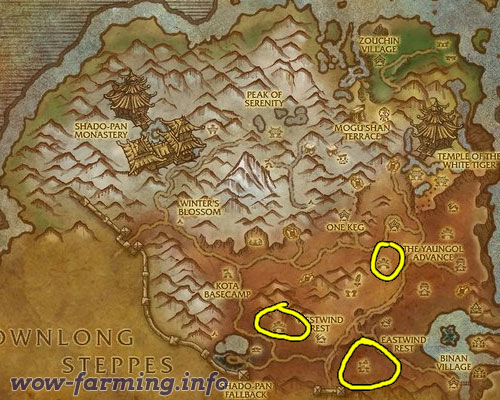 Tip: Have you ever wondered how players have so many level 85s or how they can level an 85 so quickly? I use and strongy recommend Zygor's in-game leveling addon which will enable you to level in 5 days of played time. You can find a free version of it here.