Trillium Ore
Item Level: 90
Where to Farm: Dead Wastes or Townlong Steppes
Skill Requirement:
Mining
Level 600
Recommended Level: 90+
The new rare ore in Mists of Pandaria is called Trillium Ore. It's the equivalent to Wrath's Titanium and Cataclysm's Pyrite Ore. You'll find two flavors of Trillium from Trillium Veins around Pandaria: White and Black Trillium.
Trillium is an extremely valuable ore since it's the highest quality and most rare ore in Pandaria. It will go for 100-300 gold on most realms, per ore! Due to the low volume of ore that actually sells and the fact that most players only want a few, you can sell these in stacks of one.
Update: You can make a lot of gold with Trillium, but if you want to step it up and make thousands of gold you should read my personal favorite guide.
Where to Farm Trillium
Farming Trillium is more difficult than farming rare ore in past expansions, because Trillium seems to share the same spawning nodes as Ghost Iron. Which means you'll basically want to fly around farming Ghost Iron and hoping for Trillium. To farm Trillium, circle Dread Wastes and then Townlong Steppes, using the routes below:
Farming Trillium in Dread Wastes
The best place to farm Trillium is in Dread Wastes. It is the highest level zone and has the most spawning nodes that could possibly spawn as Trillium. Use the following route to gather the most trillium.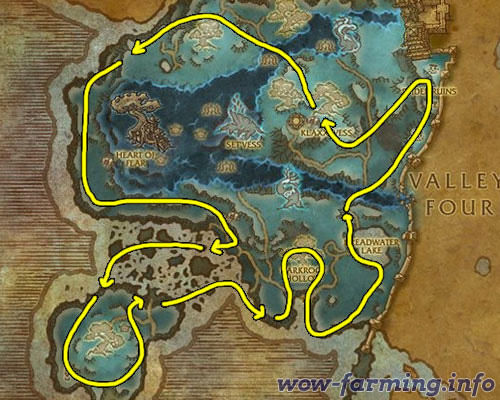 Farming Trillium Townlong Steppes
The next best place to farm Trillium is in Townlong Steppes. The dotted line around Niuzao Temple is optional. I recommend circling Townlong Steppes twice and then moving down to Dread Wastes, return to Townlong after two passes around Dread Wastes.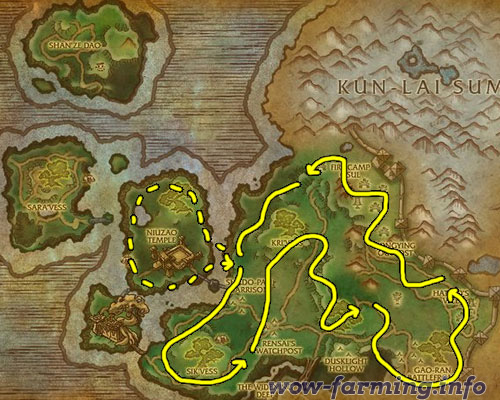 Tip: Have you ever wondered how players have so many level 85s or how they can level an 85 so quickly? I use and strongy recommend Zygor's in-game leveling addon which will enable you to level in 5 days of played time. You can find a free version of it here.