Titanium Ore
Item Level: 80
Where to Farm: Icecrown
Skill Requirement:
Mining
Level 450
Recommended Level: 79+
Titanium Ore is the rare ore in Northrend. It sells from 7 to 30 gold each depending on your realm and whether or not its even available for sale and whether or not someone wants some. Its mostly bought by players who want to make end-game level 80 gear for fun, need a Titanium Rod for enchanting or are having a hard time leveling their profession. It's good to have a few of these posted on the auction house at all times to make sure that you can capitalize when someone is in search of Titanium. Post a variety of small and big stacks of ore and bar on a consistent basis and you will have good success.
You should be at least level 79 and have level 450 mining. You are also going to find a lot of Saronite Ore, since it shares the same spawn locations as Titanium Ore. Don't skip Saronite Veins, especially if you are mining for a long time. If you empty a Saronite Vein it might come back as a Titanium Vein.
Update: You can make a lot of gold with Titanium Ore, but if you want to step it up and make thousands of gold you should read my personal favorite guide.
Where to Farm Titanium Ore
Farming Titanium Ore in Icecrown
The best place to farm Titanium Ore is in Icecrown. Like mentioned above, make sure you clear out Saronite Veins so that they can come back as Titanium Veins later. Follow the mining route below, zig zagging as you go over wide cliff areas. Veins are often located near areas with monsters, so if you're not level 85 you will have to fend them off. Run this U shaped route to find the most Titanium Veins: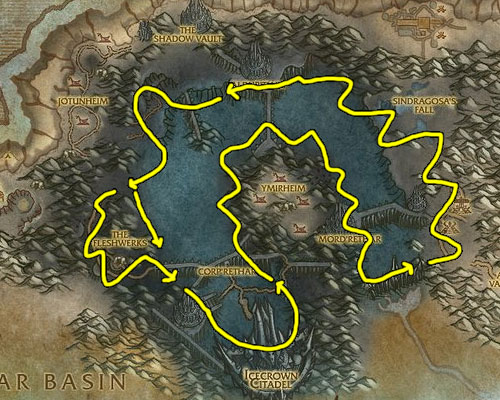 Tip: Have you ever wondered how players have so many level 85s or how they can level an 85 so quickly? I use and strongy recommend Zygor's in-game leveling addon which will enable you to level in 5 days of played time. You can find a free version of it here.