Tiger Lily
Item Level: 72
Where to Farm: Sholazar Basin
Skill Requirement:
Herbalism
Level 375
Recommended Level: 75+
The price of Tiger Lily fluctuates between 1 and 5 gold, making it a great herb to farm. It sells fast to players who are leveling the alchemy and inscription. You can farm it once you have level 375 Herbalism and as soon as you can kill level 75-77 mobs. Since there are not a lot of people farming Tiger Lily, if it's in short supply on your realm you can make a lot of gold really fast since players do buy it on a regular basis. No one really feels like traveling to Sholazar Basin of all places to farm something they need that they can otherwise buy for a few hundred gold.
Update: You can make a lot of gold with Tiger Lily, but if you want to step it up and make thousands of gold you should read my personal favorite guide.
Where to Farm Tiger Lily
Farming Tiger Lily in Sholazar Basin
The best place to farm Tiger Lily is in Sholazar Basin. You will also find it in Howling Fjord, Grizzly Hills and Borean Tundra (near water) but you won't find nearly as much as you will in Sholazar. Along with Tiger Lily you will also find a lot of Goldclover and Adder's Tongue while farming in Sholazar, that's one of the reasons I prefer Sholazar so much. I've come up with the following general Goldclover/Tiger Lily/Adder's Tongue farming route for whenever you're near Sholazar with herbalism. The red ares are where you will find the Tiger Lily, so if that's all you want just bounce from red area to red area. If you want to farm other herbs at the same time use the yellow route around the zone.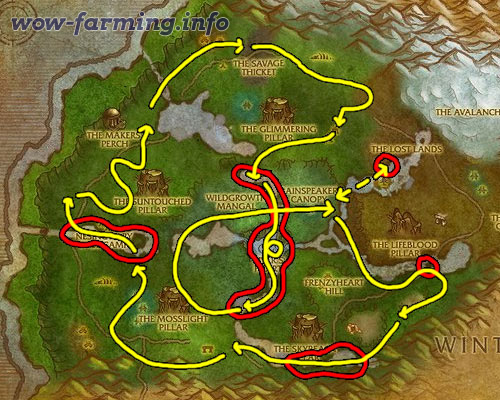 Tip: Have you ever wondered how players have so many level 85s or how they can level an 85 so quickly? I use and strongy recommend Zygor's in-game leveling addon which will enable you to level in 5 days of played time. You can find a free version of it here.