Fel Iron Ore
Item Level: 60
Where to Farm: Hellfire Peninsula
Skill Requirement:
Mining
Level 275
Recommended Level: 58+
Fel Iron Ore is the "starter ore" of The Burning Crusade and is found primarily in Hellfire Peninsula. It is a great mineral to farm because it is abundant and can be sold for usually between 2-4 gold each (40 to 80 gold a stack). The bars will sell for 4-8 gold (80 to 160 gold per stack). You should sell them as a mix of ore and bar unless one or the other is already in high supply on the auction house. Players who are leveling Blacksmithing and Engineering will buy the bars and players who are leveling Jewelcrafting will buy the ore to prospect into gems. It is the easiest ore to sell from the Outlands.
You will want to be at least level 60-62 to farm Fel Iron Ore and have level 275 mining. You will also need The Burning Crusade Expansion pack.
Update: You can make a lot of gold with Fel Iron, but if you want to step it up and make thousands of gold you should read my personal favorite guide.
Where to Farm Fel Iron
Farming Fel Iron Ore in Hellfire Peninsula
The best place to farm Fel Iron Ore is in Hellfire Peninsula. You can also go to Zangrarmarsh, Shadowmoon Valley or Netherstorm and find some Fel Iron Ore but you will find mostly other things there which are also valuable. If you just want to mine Fel Iron, go straight to Hellfire Peninsula. The big difference between mining Fel Iron Ore and other ores is that Fel Iron isn't only found near the edges of the map, you will need to zig zag the entire zone to find the most ore. Here is an ideal farming map: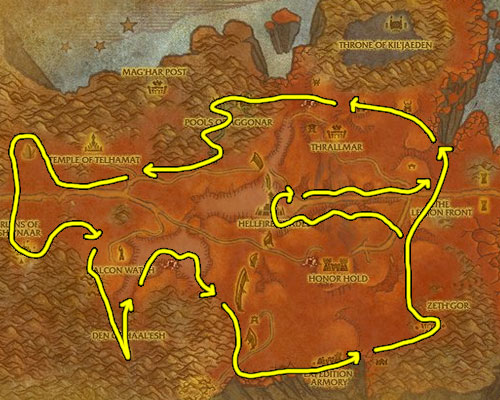 Tip: Have you ever wondered how players have so many level 85s or how they can level an 85 so quickly? I use and strongy recommend Zygor's in-game leveling addon which will enable you to level in 5 days of played time. You can find a free version of it here.