Exotic Leather
Item Level: 86
Where to Farm: Dread Wastes or Valley of the Four Winds
Skill Requirement:
Skinning
Level 500+
Recommended Level: 86+
Exotic Leather is the main type of leather in Mists of Pandaria. It's very valuable, usually worth anywhere from 2 to 6 gold each. It tends to be more valuable on smaller realms and less valuable on larger ones. It's used by Leatherworkers and sells best in stacks of 20.
You can find it from just about any beast in Pandaria. You also will find Sha-Touched Leather, which you can combine 5 of into a single Exotic Leather if you're a Leatherworker. Otherwise, you'll have to sell the Sha-Touched Leather in its raw form or find a Leatherworker to convert it for you.
Update: You can make a lot of gold with Exotic Leather, but if you want to step it up and make thousands of gold you should read my personal favorite guide.
Where to Farm Exotic Leather
Farming Sha-Touched Leather and Exotic Leather is easier than in past expansions. Your goal will be to find densely packed, high-level beasts. They should have a fast respawn rate and low hit points. As a bonus, if you could find beasts that are killed by players doing daily quests, looted and left to the wayside, you can farm even more leather per hour.
Farming Exotic Leather in Dread Wastes
Spot #1: The best place to farm Exotic Leather is in Dread Wastes just north of Star Lake. Here you will find Coldbite Crocolisks (along the shore), Chillwater Turtles (also along the shore) and Horrorscale Scorpids (along the ridge). There are Klaxxi dailies that send players here, so you will find PvP and already dispatched beasts waiting.
Make sure you kill your share of turtles, these will drop Prismatic Scales from time to time.
Spot #2: The second spot to farm Exotic Leather and Sha-Touched Leather is along the western coast overlooking the sea. Here you will find Ruby Venomtails and Dread Scarabs. There are a lot of these and they can be skinned for leather.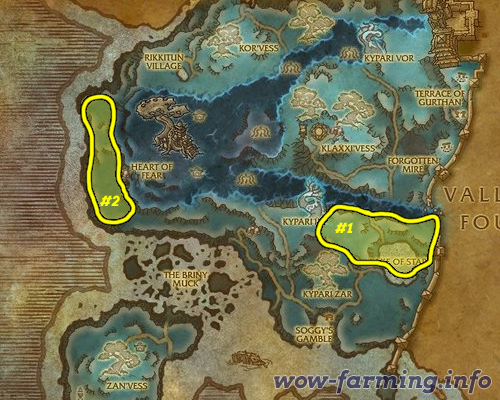 Farming Exotic Leather in Valley of the Four Winds
The second best place to farm Exotic Leather is in Valley of the Four Winds. There are Mushan all over this zone, so many that they might as well call the zone Valley of the Many Mushan. You can find these almost everywhere. They are level 86, so this spot might work even if you're only level 85-86.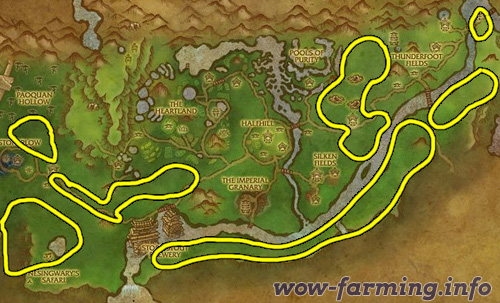 Tip: Have you ever wondered how players have so many level 85s or how they can level an 85 so quickly? I use and strongy recommend Zygor's in-game leveling addon which will enable you to level in 5 days of played time. You can find a free version of it here.