Elementium Ore
Item Level: 83
Where to Farm: Deepholm, Twilight Highlands and Uldum
Skill Requirement:
Mining
Level 475
Recommended Level: 82+
Elementium Ore is one of the second most popular ores to farm as a miner. It sells for anywhere from 1 to 3 gold before it's smelted and twice that in its bar form. It sells best as either stack of 20 Elementium Ore or stacks of 20 Elementium Bars. To farm Elementium Ore you only need level 475 mining, so you can get started farming it early. You can mine it from Elementium Veins and Rich Elementium Veins in Deepholm, Twilight Highlands and Uldum. While you're farming Elementium, you will also find gems, Volatile Fire, Volatile Water, Volatile Earth and if you're an Engineer with an Electrostatic Condenser you will also find Volatile Air.
Update: You can make a lot of gold with Elementium, but if you want to step it up and make thousands of gold you should read my personal favorite guide.
Where to Farm Elementium
Farming Elementium Ore in Twilight Highlands
The best place to farm Elementium is in Twilight Highlands. The benefit of going here is that you will also find Pyrite Ore at the same time. If you're an Herbalist you will also find Twilight Jasmine here and there. You can use this farming route which also works for farming Elementium and Pyrite: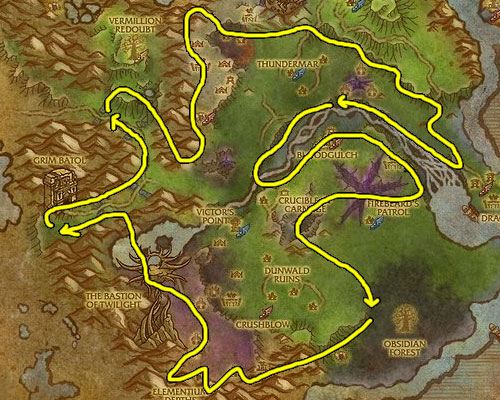 Farming Elementium Ore in Deepholm
The second best place to farm Elementium Ore is Deepholm, if you only want Elementium. If you want the chance to collect Pyrite / Pyrium at the same time, you can go to Twilight Highland or Uldum. Deepholm is huge and has a lot of Elementium Veins in it and you shouldn't bump into a lot of people while farming there. The mobs are also not level 85, so they will be easier to kill if they are in your way. Here is an Elementium Farming route in Deepholm: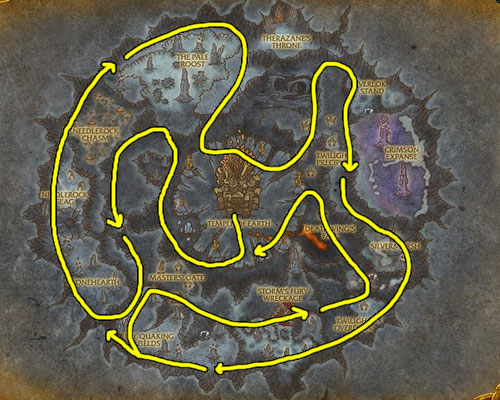 Farming Elementium Ore in Uldum
You can also go to Uldum to farm Elementium. Just like in Twilight Highlands, you will also find Pyrite here. If you're a Herbalist you'll find Whiptail along the rivers. You should follow the same route that I recommend for farming Pyrite in Uldum, since the spawn locations of Elementium and Pyrite are exactly the same.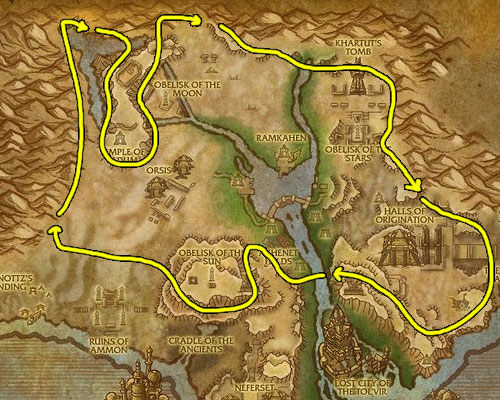 Tip: Have you ever wondered how players have so many level 85s or how they can level an 85 so quickly? I use and strongy recommend Zygor's in-game leveling addon which will enable you to level in 5 days of played time. You can find a free version of it here.